Most people are aware that UV light damages human skin. However, most people don't realize the impact that UV light can have on materials and artworks. And while skin cells can regenerate, UV damage on artworks accumulates and is expensive to properly restore.
Traditionally, glass has been the first line of defense against art damage, as it creates protection from the outside environment and is transparent, making it appropriate for displaying art on walls.
Evolution of protective glass for framing
Regular glass blocks only around 20-40% of UV light, therefore UV damage still occurs. That's why long-term displaying of very valuable artworks is generally not recommended, as it can cause deterioration.
Artglass UV-protective glass is a sufficient barrier to protect our most important treasures. In addition, some of the protective glass types increases clarity and removes reflection. The basic UV protection level (70-92% protection) is achieved through the optical coating process. While sufficient for exhibits in controlled light environments, it doesn't guarantee that the artwork won't change its appearance. The maximum protection level (99%) is most often achieved by adding a chemical coating layer that absorbs the incoming UV light and safeguards the artwork to museum standards.
3 levels of UV protection
We need UV glass to protect our most important treasures. But there is more than one kind of UV-protective glass, so we thought it would be good to let you know some nuances that would help you when choosing UV-filtering glass for your frames.
Generally, to upgrade from regular glass, there are three UV protection levels in professional glazing that you can choose from. Let's dig deeper:
70% UV protection (basic protection)
70% UV protection is achieved by applying ultra-thin metal oxide coatings that are invisible to the eye. The main purpose of these thin-film coatings is to eliminate reflections and make the glass more transparent, but adding 70% UV block is a nice perk that comes with the process. Artglass AR 70 protection is enough to protect and display reproducible artworks or mediums that are less susceptible to UV light.
92% UV protection
92% UV protection is the highest UV protection level that can be achieved using the vacuum coating technology we've talked about. It is very similar to the 70% protective product, but more invisible coating layers are applied to ensure higher UV protection. Our Artglass AR 92 is distinguishable by its slight ocean-blue reflection color*.
THE ULTIMATE – 99% UV PROTECTION
When the UV protection level is higher than 97%, the product qualifies as conservation-grade glazing. The Professional Picture Framers Association (PPFA) and Fine Art Trade Guild (FATG) suggest this level of protection. Maximum protection should be chosen in cases where the artwork has a high sentimental or monetary value that needs to be preserved. This is the safest way to ensure that your artworks stay undamaged (unless you store them in dark archival storage). UV-blocking glass with 99% protection allows you to exhibit and appreciate your artworks while, simultaneously, keeping them safe from damaging light. UV-blocking glazing comes in two varieties – anti-reflective (Artglass AR 99 Water White, Artglass AR 99 Protect, and Artglass Lifetime Acrylic) and regular (Artglass UV 99)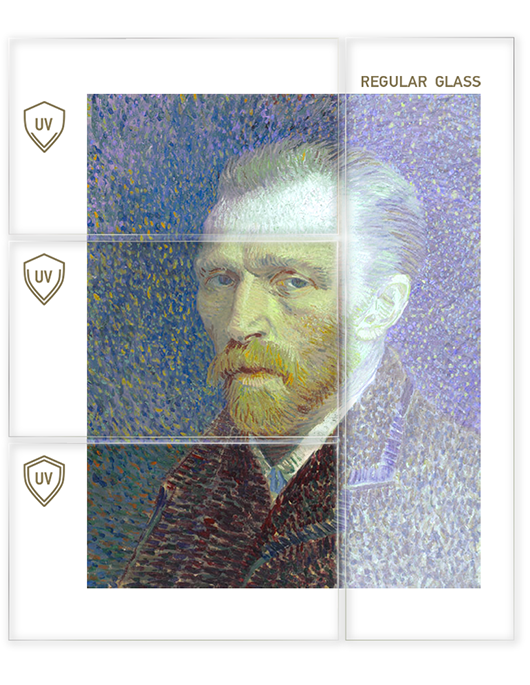 PROTECT YOUR ART FROM UV –
Always consider the largest possible UV protection when framing your artworks, especially if exhibiting them in bright places. Artwork damage accumulates over time, so it's important to avoid Always consider the largest possible UV protection when framing your artworks, especially if you plan on exhibiting them in bright places. Artwork damage accumulates over time, so it's important to avoid it from the start. If you notice any kind of minor artwork damage, have your custom framer evaluate it as soon as possible. Damaged artworks are expensive to properly restore, so the best time for protecting them is now!
* Anti-reflective glass reduces reflections from 8% to 1%. The remaining reflection has a slight neutral color. This is also characteristic of prescription glasses. The products designed for the framing industry are optimized to cool and neutral reflection colors, usually green (instead of the pink / purple most commonly used in prescription lenses).